How to Find the Best Classic Car Collision Repair Shop Near Me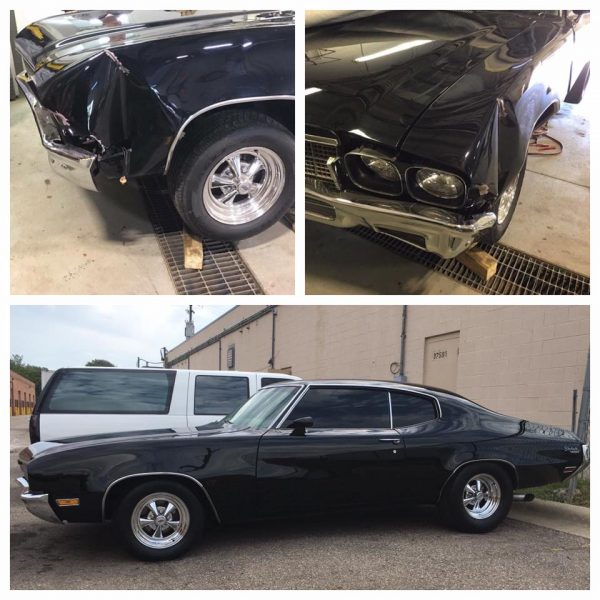 You've spent a great deal of time, effort and money on your classic car, muscle car or Hot Rod. Not only did you go to great expense to find the car of your dreams, you've spent many years ensuring that such a car gets the respect, care and attention that it deserves.
You've fed it only the very best oil and fluids. You've kept it rigorously maintained using only the highest quality genuine parts. You've driven with care and attention… although you haven't been afraid to put your car through her paces.
You've even invested in quality detailing, ensuring that your car's appearance matches her performance on the road.
Suffice to say, you've invested a lot into your car in every sense of the word.
As such, when the unthinkable happens and your vehicle is involved in a collision, it can be an extremely distressing experience. After all, it's not as though you can take it to any old "Joes Body Shop". You need a classic car collision repair shop you can trust.
But where do you find one? How can you know that they can be trusted to give your vehicle the care and attention that it deserves?
Here are some tips on finding a classic car repair or custom body & paint specialist to get your car back up and running (and looking good as new) as soon as possible…
Ask people you already know and trust
As enthusiastic as you are about your vehicle, or classic cars in general, you may not necessarily know the best place to go for classic car collision repair in your area. But you'll still probably have specialists that you go to for your oil changes, washing or detailing.
Even if they don't have the capability or experience to carry out the repairs themselves, they might know someone who can. And if it's someone that they know and trust, you can benefit from their seal of approval.
Heck, tell them who sent you and you might even be able to negotiate a better rate!
Reach out to the classic car community
As a classic car enthusiast, you are more than likely part of a community of people who share your passion. Whether it's a group of people within your friendship circle, or an online community with whom you converse on social media groups and message boards. Or even the comments sections of your favorite automotive blogs!
And these communities can be goldmines of useful information!
The odds are that there may be someone in your area who can point you in the right direction. And because we live in the digital age, you have all the tools at your disposal to do your due diligence and make sure they haven't given you a bum steer.
Carry out a "Classic Car Collision Repair Shop Near Me" search
Search engines are your friends. But you need to know how to use them effectively. In the age of the smartphone, many of us instinctively reach for our devices to carry out "near me" searches, whether we're looking for a body shop or a bubble tea.
And while Googling "classic car collision repair shop near me" may well yield the results you want, you should do your homework before committing to the first entry that comes up on the SERP or Search Engine Results Page.
The businesses at the top of the list may not necessarily be the best. They're just the ones that have invested the most in their online visibility and Search Engine Optimization (SEO).
Again, do your due diligence by seeing what their customers are saying about them on Google as well as other sites like Trustpilot. And always look for "verified purchases" so you know that reviews are from genuine customers.

Search local directories
If you're getting frustrated with search engines, looking in a local directory (either yellow pages or online directory) may be a useful way of seeing what custom automotive paint, custom body & paint, and classic car collision repair shops are available in your area.
Because they're physical listings, you get to see everybody. Not just the businesses that have paid more to be featured prominently!
Search for manufacturer approved repair shops
Depending on the manufacturer of your vehicle, you may want to try searching for manufacturer approved repair shops in your area.
These shops will be able to source the genuine parts you need for an effective repair. They will also have the experience and expertise with the brand to ensure that your paint and bodywork look exactly as the manufacturer intended.
Scour the local press
Local magazines and newspapers quite often write pieces about businesses that accomplish exceptional things, win prestigious awards or deliver outstanding services to the community within their pages.
If you're looking for a classic car collision repair shop that's achieved local recognition, these might be a great place to look. You can see what local publications have written about us here and here.
Find the award winners
You care deeply about your car. It's only right that it gets the very best standard of care available in your area. You need to know that your classic car collision repairs will be carried out by a skilled and knowledgeable specialist.
As such, you might want to look into winners of relev
ant automotive awards shows and festivals in your area.
Click here to see some of the accolades that we've been honored and privileged to receive over the last few years.
Why you can trust KBW Hot Rods with your Classic Car Repair
At KBW Hot Rods, we're every bit as passionate about your classic car as you are. Which is why we strive for excellence and the attention to detail that our discerning customers demand.
Our skilled and highly experienced team are able to carry out all kinds of collision work, installs, modifications and even complete vehicle restorations.
Want to know more?
Call KBW Hot Rods today at 586-468-6008.
You can also see a look at some of the previous collision work we've carried out here.